My flight was scheduled for 9: 45am. It was still dark at 6am but it didn't look like there had been any further snowfall, and it wasn't snowing anymore. Once it got a bit lighter, we could see that there was a couple of inches of snow, and they sent out a fire engine with a snowplow attachment to start clearing it.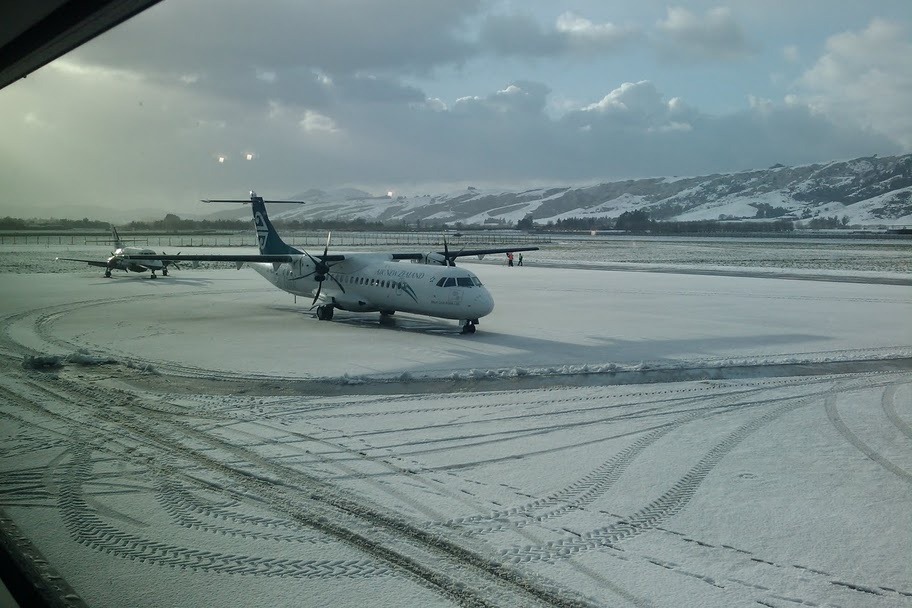 Around 7am they started making announcements about the flight status. The Pacific Blue flight to Brisbane from the night before was initially re-scheduled to depart at 8:30am but was then delayed until 10:30am. Most of the Air New Zealand flights in the morning were cancelled. There were two 737s at the airport and so only two flights were left on the board - one to Christchurch and one for Wellington, and both of them were delayed until at least 10:30am. My flight was cancelled.
I waited half an hour on hold with Air New Zealand bookings to rebook my flight. They told me that all the flights to Auckland that day were full except for the 8:50pm one. I told her I didn't think there was much chance of that one actually taking off. I'm pretty sure like last night that once it gets dark the runway would ice up again. There was another flight to Auckland scheduled for about 2pm but it was via Christchurch. I already knew that Christchurch airport was closed and that there wasn't much chance of that flight happening either. So I opted to book the 9:45am flight the following day, and I would try to get that changed to an earlier flight if things started looking more promising.
I spent most of the morning sitting around reading my book, chatting to people and just generally waiting. I'd have loved a comfy seat and a shower but they never opened the Koru lounge because they were too short-staffed.
I think it was around midday that they announced that people should check in for the Pacific Blue flight so they would be ready if there was a chance to take off. Things were looking promising ... the snow was definitely melting - you could see grass, and you could see water on the runway rather than just snow. There were occasional snow showers, but they weren't very heavy and didn't last too long. So there was at least a chance the flights would get out. Air New Zealand then announced they would start checking people in for the flight to Wellington but that it would be people flying to Wellington only. They would not book anyone with transfers to another city. People who wanted to go to Auckland or elsewhere could change their booking to Wellington but they would be on their own from there and would have to buy their own tickets to get from Wellington back to Auckland. Given that all the flights from Wellington to Auckland seemed full, I decided to wait for a flight to Auckland.
A little later they announced that the other plane on the tarmac wouldn't be going to Christchurch because it was still closed, but that they might try a flight to Auckland. I had no idea what flight number that might be, but I called the booking line to try and find out and see if I could get on it. The booking people actually had far less idea about what was going on than I did, so they weren't able to help very much. The issue became moot pretty soon when they announced that they didn't actually have enough staff to enable the plane to take passengers, so it would be departing to Auckland empty. I asked if there were any earlier flights that I could be on standby for and was told that there was no such thing as standby on domestic flights so I went back upstairs thinking I'd definitely be here another night.
All three planes waiting managed to take off - Pacific Blue to Brisbane, a full AirNZ plane to Wellington and an empty one to Auckland. Then one plane managed to land - a turboprop from Christchurch. The board was now showing that there was a direct flight to Auckland at 5pm that hadn't been cancelled, and the inbound flight also was still showing up as departing from Auckland on schedule. I decided to go downstairs and wait in line to find out if there was any way I could get on that plane. After about half an hour in the queue, I was told that yes, I could get listed as standby on that flight. I was told that when they called check-in to just come down and check in and they'd give me a standby boarding pass. I went back upstairs and looked up the inbound flight and saw that it had taken off from Auckland on schedule, so there was at least some hope there. The runways were still clear, and there had been no fresh snow, just a few brief flurries.
I went to check in when the inbound flight from Auckland touched down. Only one of the three self check machines was working so the queue was pretty long in front of the two people on the check in desk. I chatted with some of the passengers in the queue around me. Most of them had just arrived at the airport and were hoping to make it to Auckland to meet international connections the following day, but there was one family who had spent the night and were on standby for the same flight as I was. They'd been put on the standby list just before me. One man who'd just arrived asked me what I thought were the chances of the flight leaving. I said I thought the chances the plane would take off were very good, but the chances that I'd be on it were pretty low.
Eventually I made it to the front of the queue, and it was the same guy who'd been in the lounge the night before. I told him he was on standby and he looked me up and told me that no, I had a seat allocation. Woohooo! After he checked me in and gave me my boarding pass, he smiled and asked if I'd ever come back to Dunedin again. I laughed and said 'only in the summer'.
Interestingly, the family who had been put on standby at the same time as me had standby boarding passes, not actual seats. I saw a few others later on who also had standby seats. I'm not sure why I got a seat and they didn't - perhaps even Silver status with Air New Zealand has value sometimes. About 2 minutes later they asked us to please go through security to the gate lounge so they could get us boarded and away as soon as possible in case the weather changed. I ended up sitting back in the same gate lounge where I'd spent the night on the floor. They got us onto the plane super quick, we were all ready to go probably at least 15 minutes before our scheduled departure. Some of the people on standby made it on to the flight but not all. I'm not sure how they decide who out of all the people hanging around with standby passes gets to board? First in first served? But then they decided to de-ice the plane as a precaution, so we sat there for half an hour or so while they scraped & hosed all the ice off the wings and tail.
Eventually though we taxied out onto the runway and it was still clear and we took off. There was huge relief, although probably only about 20 of us had actually slept at the airport the night before. Due to the fierce tail winds we landed in Auckland after just 1hour 20 minutes, as opposed to the almost 2 hours it normally takes. And man, if I'd thought the queues at Dunedin were bad, they had nothing on Auckland. The queue at the Air New Zealand ticketing desk was enormous, stretching back past the baggage claim and through the foodcourt. I felt sorry for them, since I knew all the other inbound flights to Dunedin, Christchurch and most of the south island had been cancelled already. At least there is a selection of hotels very close to the airports in Auckland so nobody should have to sleep in the terminal.
So I missed the snow in Auckland, but I've seen enough falling snow to last me for a while now. I know it's a stupid comparison, but when I was watching the snow fall, I just kept thinking how much it looked like a snow globe. I mean, obviously it should since a snow globe is designed to look like falling snow, but I never really thought about it before. That's really the first time I've seen properly falling snow, more than just a few small flakes. It really did look like large chunks of white snow swirling and falling and blowing all over the place before finally settling on the ground.
So, overall, I'd say this was an interesting experience. How many people get to sleep in an airport terminal in the middle of a blizzard? Not something I'd like to do again - one night was enough, but still, it was actually quite fun.