More tequila!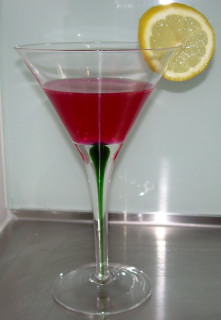 Ingredients:
50ml tequila
15ml lemon juice
5ml white creme de cacao
5ml grenadine
dash of bitters
Instructions:
Shake all ingredients with ice and strain into a cocktail glass. You're supposed to garnish it with a maraschino cherry & slice of orange, but I don't really like maraschino cherries and didn't have any oranges so used lemon instead.
The taste is very ... interesting. The tequila dominates and combines well with the lemon, but you can still taste the chocolatey flavour of the creme de cacao and the herby/spicy bitters. The grenadine may have added a bit of sweetness but mostly seems to add colour. I sipped this very slowly over more than an hour and found that it seemed to taste better after time. I think I'll have to try it again though, it was an interesting set of flavours.