Hazelnutty creamy cocktail.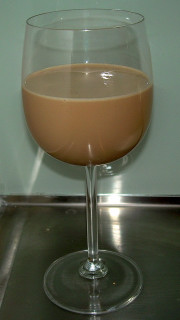 Ingredients:
1 part Frangelico hazelnut liqueur
1 part Kahlua
1 part Baileys
2 parts cream
1 tbsp honey
Instructions:
Blend with ice and serve in either a collins glass or champagne flute. Optionally garnish with chocolate flakes.
I took a few liberties with my version of this drink. I replaced the honey with chocolate sauce, and I shook it with ice rather than blended it, because my blender really can't cope with ice properly. I'll have to try it again the proper way, because I really didn't like this one so much. It was nice, but not nearly as nice as the hokey pokey or the mudslide.